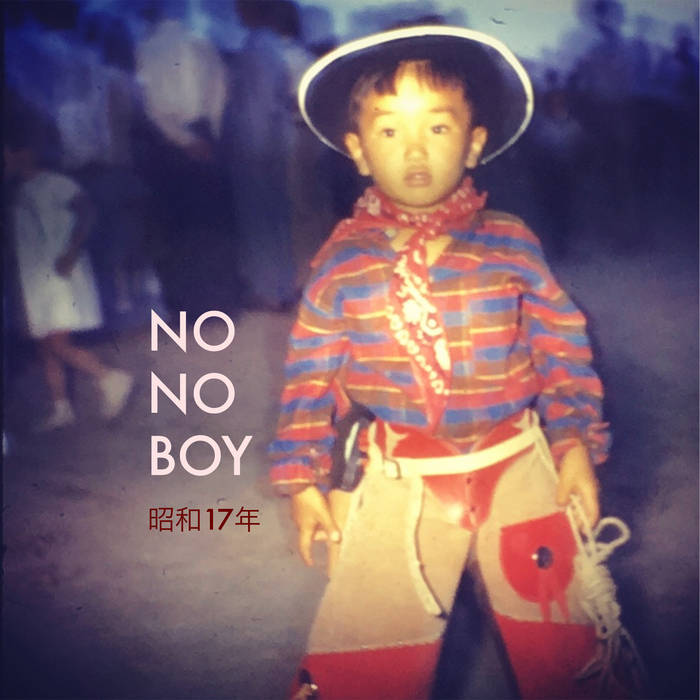 A new album by Julian Saporiti is always a big event in my musical life. Julian's former band, the Young Republic, made some of the best music of the early 2000s, and I'm not just saying that because my son was in the band.
Really.
I'm not.
Julian recorded this fall's offering, 1942, with Erin Aoyama as the duo No-No Boy. It's the product of several years of ambitious research into Asian-American history, in particular the Japanese internment camps that were part of U.S. policy in this country during World War II. The project is not only an album of new material that will appeal to a wide audience but also serves as part of Julian's PhD studies at Brown University.
Recording the album was a long and collaborative process. Saporiti traveled to Illinois last summer to spend a week cutting basic guitar and vocal tracks with fellow Berklee grad Seth Boggess. "Over the course of the next year I tinkered with the album," he said. "I'd have friends layer on instruments." Those friends included recording artist Kishi Bashi who layered strings onto some of the songs. "I kind of crave feedback and collaboration," Julian told me. "I'm more open than I used to be, for sure.            
                                                                 No-No Boy is currently touring behind the album, playing dates across the country from east coast to west and back again, culminating in a performance at New York's Lincoln Center in mid-November. Playing libraries, universities and even a Buddhist temple, the tour is far from the typical rock band tour. "This project just effortlessly has an audience," said Julian, due, he said, to "the uniqueness of the academic/historian/folk singer thing." Performances on this tour are as much presentation as concert with Julian and Erin sharing family stories and human interest stories from their research along with moving images of the Asian American experience.
This tour is more befitting a performer in his thirties, said Julian, in contrast to the spartan, hand-to-mouth touring days of the Young Republic. "This time there are honorariums and food and big arts institutions with lots of money who say 'come and play,'" said Julian. Gone are the days of "KFC buffets where we stuff food in our pockets."
Last fall Julian came to the University of Maine at Farmington not only to give his musical presentation but also to visit my classes where he talked at length about his research and aspects of the Asian American experience of which my first-year college students were unaware. They learned a lot from both the classroom visit and the performance, and Julian says that educational aspect is the main focus of this tour.
Many days off from the public performances are filled with school visits and workshops, and No-No Boy is selling not only the album but also an annotated lyric book. "We've already had teachers that are using this in the classroom, along with the images," he said.
Despite the academic slant, No-No Boy can play a rock club when the opportunity arises. The have opened for Kishi Bashi in more traditional rock venues. "That poor unsuspecting indie rock audience," Julian joked. But in truth, he said, those shows have gone over well. The duo can stage what Julian described as "an indie rock show with projections behind us. The material is really malleable in that way."
Back when I knew Julian in the Young Republic he was firmly planted in the music business. Although now he's as much scholar as musician, he sees a link between his first band and the work he's doing now. "The foundations are with the YR," he said. "In 'Black Duck Blues' you see the theoretical principal developing. I just hadn't read a book yet in my life."
Saporiti seems to be happy combining the music business with academia. He seems passionate in his desire to "illuminate the understudied past" as his promo material explains, and he knows that using his music business skills and experience can help him find an audience. "One of our videos has 5000 views," he said. "That's a lot more people than are going to read my peer-reviewed articles."
1942 is available through Bandcamp, Apple Music and other music services.
A trailer for the album can be viewed here:  https://www.youtube.com/watch?v=1z4J9avL400